Fish Report for 9-17-2019
Eastern Sierra Fish'N Conditions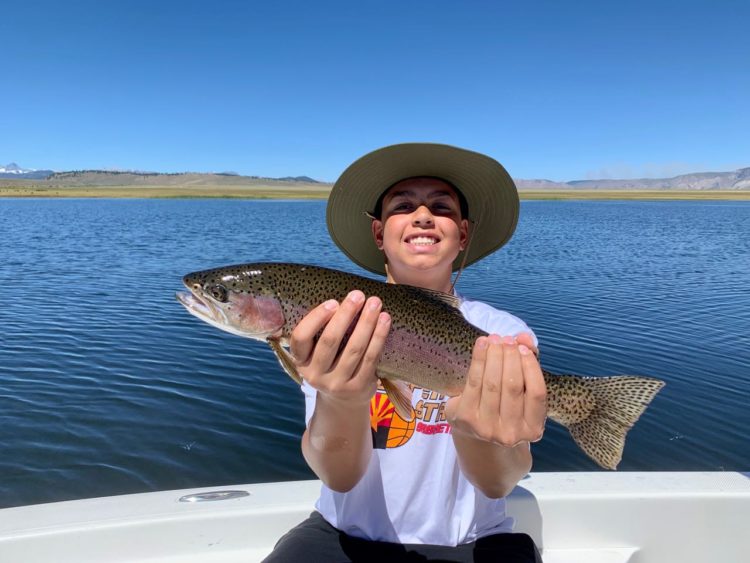 Jackson Kirby fished with Jerry and got this rainbow trout that put a huge smile on his face!
Photo Credit: Courtesy of Sierra Drifters
by Doug Rodricks
9-17-2019
(760) 935-4250
Website

A cooler pattern has settled in and has brought a day of strong winds with it. Some upper elevation snow was possible, but that chance grew weaker as the day went on. It was however a day of no power, for Crowley and Mammoth Lakes. With the lack of moisture this year, causing the brush to be extremely dry, the power companies deemed it an unsafe condition and were playing it safe, to avoid the possibility of an electrically started wildfire.
As we near the fall season, the crowds have thinned out, the fish are starting to turn their attention to a heavy feeding pattern to fatten up before the spawn, and the water temperatures are beginning to cool down. The first decent hatch of midges has once again returned on Crowley Lake and they have been accounting for some nice fish. The East Walker River is reaching an ideal flow rate once again and you can expect some larger fish to start showing up. Bridgeport Reservoir giving up fish along the mud bottom and the weed edges. Silver and Grant Lake got a healthy dose of fish and some larger ones are starting to come up higher in the water column to feed. Hot Creek and the Upper Owens continue to fish well with dry flies and various nymphs. Getting a bit weedy in the HC canyon. Huge increase on the Middle Owens River. It is best to avoid the river at these flows and can become an unsafe event as well. The San Joaquin is really starting to get down to a very meager flow rate now. You will have to focus on the pocket water exclusively from here on to get into the wild fish.
Crowley Lake
This will go down as the year where the fish never really got into a real solid concentration in any give area. With the water remaining so high for most of the season, the fish remained spread out through the lake. You can catch them in a few feet out to the 20 foot depth and beyond. They can be found over the mud, over the weeds, in the channel, and even over the flooded grass. The water is now starting to drop rapidly with the increase in flows below in the Owens Valley. This will begin to expose the bulk of the weed beds and open up more shoreline in places like Six Bays, Sandy Point, and Green Banks. These are all great spots for fall fishing, and there is plenty of food living in the weed beds. Assassins, midges, and perch fry are still holding strong fished under an indicator. The windy days can be great along the weeds and in the channels. It is a mixed bag catch currently, with fish ranging from 6" – 24". Brown trout, rainbow trout, and cutthroat trout are all in the mix. Slow pulling our assassin and perch fry patterns have been good too!
Best Flies: Parallel Assassin Dark and Light – 16; Assassin Dark and Light – 16; Parallel Punk Perch Dark and Light – 14, 16; Broken Back Dark Zebra Midge- 16; Crystal Tiger Midge Long -18; Broken Back Copper Tiger Midge – 18; Crystal Copper Tiger Midge – 18; Crystal Midge Pupa Black – 20; Crystal Caddis Larva Olive Copper – 18; Punk Perch Dark and Light – 14, 16; Damsel Nymph Dark and Light; Flashback Pheasant Tail Tungsten Black Head – 14, 16, 18.
Middle Owens River/Wild Trout Section (Bishop Area)
Flows are raging here again as the flood gates have opened up. Best to look elsewhere as it can be an unsafe condition here if you go in.
Hot Creek
The weeds are really growing in down in the canyon. The fishable areas here are becoming a bit more sparse, but the open water areas are holding some good fish. The Interpretive Site has been fun throughout. The bugs are very tiny here, so going with smaller patterns on top, like size 20 and smaller seem to get better looks than the bigger stuff right now. Nymphing has still been producing well. It has been a mixed technique here, so having a couple of rods with varying setups has been a good call.
Best Flies: Flashback PT's #16-#20, Tricos Spinners #20-22, SD Crawlers in Red #14, Copper Tiger Midges #18-20, and #18 Assassin Dark
Upper Owens River
Flows at 111 cfs here. Look for bug hatches in the warmer periods of the morning. You can nymph up some great numbers here, with the occasional larger fish in the trout mix. A few grasshoppers still lingering around, so the windy days are still getting fish to rise on a hopper casted into the right spots. Work the undercut banks for that nice fish that is holding by its lonesome.
Best Flies: Stimulator – 12, 14, 16; Crystal Copper Tiger Midge – 16,18; B100FB – 14, 16, 18, 20; Spruce a bu dark and light; Loeberg Mallard Silver; Loeberg Guinea Silver, Crystal Midge Pupa Black – 18; Crystal Chironomid Emerger Copper – 16, 18; Broken Back Copper Tiger Midge – 14,16,18.
East Walker River
Flows have come down to excellent levels now at 236 cfs. This has opened up more access areas along the mile section and below. Do not get the wrong idea though, as some area are still swift crossing sections so be smart about it. The fish are starting to get into a stronger mid-day feeding pattern. The water is starting to cool slightly and moving the fish around more. Try nymphing with perch fry and leech patterns in the deeper areas. The evenings can be good too with some bigger streamer patterns.
Best Flies: B100FB – 18, 20; Crystal Copper Tiger Midge -16; Crystal Zebra Midge – 16, 18; Punk Perch Light and Dark – 14, 16; Parallel Punk Perch Light and Dark; Crystal Leech – 12, 14, 16; Agent Orange 12, 14, 16; Parallel Agent Orange – 14.
Rainbow Trout.com © 2019. All Rights Reserved.
Website Hosting and Design provided by TECK.net
Fish Database content provided by the Fish Reports Network.