Fish Report for 10-25-2018
Eastern Sierra Fish'N Conditions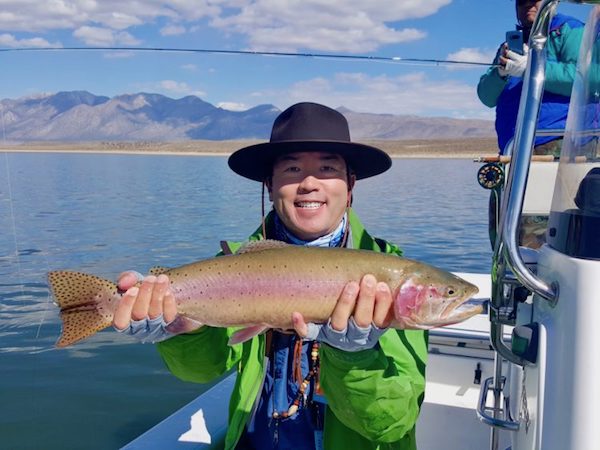 Todd Yamada fished with Two Bug and scored this sweet cutty!
Fish'N Conditions
A much welcomed warming trend has set in for the week and into the weekend. Seasonal and pleasant weather looks to continue through the end of October. If you've wanted to view the splendor of the fall colors on the trees, they are now in full autumn color. The next possibility for snowfall may present itself by the first week of November. East Walker River in excellent shape now and some of the bigger fish are now coming to the net. Upper Owens River has scattered school sized fish throughout, and a few larger rainbows have made their way upstream from Crowley Lake. Hot Creek good in the mornings after the frost comes off using small midge and egg patterns. Middle Owens River on the drop and conditions are now prime for drifting.
Crowley Lake
As we get into the final days of fishing the lake by boat, we've been greeted by high pressure days with some midge activity later in the mornings as the cold temperatures subside. We will continue to fish here by float tube until November 15th even after the main gate closes on October 31st. The north arm has drawn most of the attention from anglers and some nice fish have been searching the mud for food. We should see more fish pile into this area as the fall moves on. The bigger fish seem to be keying in on larger offerings like perch fry and assassins. #14-16 Parallel Assassin Dark and Assassin Dark, #14- 16 Level Crystal Leech and Crystal Leech, #18 Crystal Zebra and Crystal Tiger Midge Long, and #10 Loebergs have been hot flies.
Middle Owens River (Bishop Area)
Flows have finally dropped to decent levels as of this report. Current cfs is 386. We will be running drift boat trips here shortly now and are predicting some good fishing as we make our way through the fall months. We have 17′ Willie drift boats ready to go and get you to some of the best holes and runs on the river which are inaccessible by foot. In the afternoons we are often times treated to some great dry fly fishing when the conditions are right, and the rest of the time we fish with sinking tip lines and streamer patterns to get the resident trout here to bite. We can fish up to 3 anglers per boat and offer half day trips (4.5 – 5 hours) or full day trips (7 hours) to meet your needs.
Upper Owens River
We are awaiting the migratory rainbows to enter the river in good numbers. As the weather continues to get cooler this will trigger the fall spawners to start getting ready for their move. The section from the Benton Crossing Bridge down to the fishing monument is now closed. Flows have decreased to 87 cfs. The cooler water has prompted the fish to feed in the deeper runs now and target nymphs and egg imitations. Look for rising fish in the late-morning and afternoons as the daytime temperatures climb. They will be found in the slower eddys around the bends in the river.
Hot Creek
Flows at 7 cfs now with weed growth prevalent. Fall fishing mode has the fish looking down when its cold, so try egg imitations and small nymphs. Different day to day here as more weeds hit the surface and begin to choke up the open water. Same story here as the bug hatches will start late in the morning or into the afternoon. #18 mayflies, #18-22 midges, #20 Brassies, and egg and SD worm patterns have been getting some serious looks and takes from the resident trout.
East Walker River
Flows now at 93 cfs. Excellent fishing now with the water temperatures reaching seasonal temps. Flows are down to very wadable and crossable levels. Seek out the deep runs and pools. Perch fry patterns stripped slowly back are a good call now. #18 Copper Tiger Midges, #14-16 Parallel Perch, #14-16 Level Leeches, and Assassins dark and light both Parallel and normal have been great patterns to hang. #18 flashback hare's ears, #18wd 40's, and SJ worms also working well.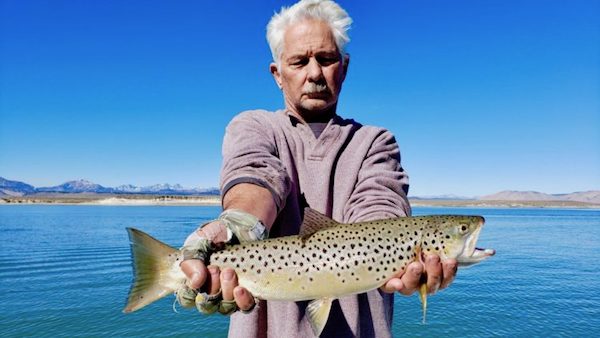 Mark Frasco is used to setting the hook on bass, but that didn't stop him from showing this brown what he's got!
Rainbow Trout.com © 2019. All Rights Reserved.
Website Hosting and Design provided by TECK.net
Fish Database content provided by the Fish Reports Network.