Fish Report for 7-26-2017
Sierra Drifters Fish Report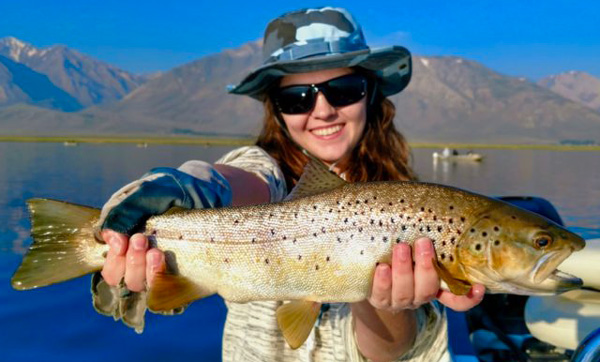 Larisa Daniels hooked into this nice brown first thing in the morning!
Guided fly fishing trips for Crowley Lake, Grant & Silver Lakes, the San Joaquin, Upper and Middle Owens Rivers, East Walker River, McGee Creek, Pleasant Valley Reservoir, Hot Creek, & the Gorge located near Mammoth and Bishop Ca. will give you opportunities to catch trophy rainbows and browns while being guided by expert fly fishing pros. Sierra Drifters guides utilize top of the line center console bay boats, drift boats, float tubes, and high quality fly fishing tackle to guide you on these blue ribbon trout waters.
Quick Look Fish Report 7/26/17
Some major changes to report here over the last week. Many of the rivers and creeks are finally starting to reach fishable water levels around Mono and Inyo counties. Monsoonal thunderstorms have been hit and miss daily and have been dropping a lot of moisture when they do hit. Thousands of grasshoppers have hatched and are littering the highways, meadows, and lakes, providing a good protein source for the fish. The road to the San Joaquin River is now open and can be accessed through the shuttle busses that make the daily runs in and out of the area. The Mammoth Lakes are all open and fishing has been great from a tube or boat. Crowley Lake has taken off big time and the fish are all over the heavily weeded areas like McGee Bay and the North Arm. Damselfly nymphs and Perch fry are the main course for them now. The East Walker River is coming down at a nice rate and now at 500 cfs. Bridgeport Reservoir kicking out a mixed size of fish from small to large from a tube or a boat. Water level here is high and has opened up the Reservoir to the trout, especially in the Buckeye and Robinson Creek channels. June Lake area lakes are good to slow depending on the body of water being fished from local reports. Upper Owens now at 76 cfs and is a lot of fun fishing dry flies and terrestrials. Hot Creek still on the high side at 114 cfs. Lower Owens at 453 cfs which is still high and fast. Jurassic Pond kicking out some beautiful jumbo wild trout as usual as McGee Creek has begun to clear up. We have our famous "Parallel Punk Perch" and "Assassin" fly patterns available on our website and at the Crowley Lake General Store. These flies are just deadly right now and have been accounting for some huge fish!
Crowley Lake 7/26/17
Excellent fishing on the lake currently. We are rejoicing the return to fishing short leaders in shallow water again. The fish have moved into the shallows and are cruising the weed lines and gorging themselves on damselfly nymphs and perch fry. Fish can be found above the shallow weeds and inside the creek channel of McGee. The quality of these fish has been outstanding and it is immensely fun to hook them in the shallows. They have no where to run but out and can't dive deep so we are seeing the backing on our fly reels quite often. Our "Parallel Punk Perch" and "Parallel Assassin" patterns have been the hot fly hung under an indicator. Fish are also taking smaller midges over the mud areas where the weeds don't grow. We have been seeing 50 + fish days quite often as the conditions have been prime. You can expect the bite to get better and better from here on out through the rest of summer and into the fall.
Check out some recent catches from our clients here:
Upper Owens River 7/26/17
River now at an excellent flow rate at 76 cfs. Fish are readily taking dry flies and droppers in the clear water above the bridge. Not a lot of fish here but focusing on the deeper pools and undercut banks now with hopper patterns can be a blast. 3 or 4 weight rods are a great set up for these fish. They are very aggressive when taking a dry fly presented to them properly. There are still some soft and flooded muddy areas getting to the river so take care in navigating the roads going in. Mosquitoes are still around in good numbers so juicing the skin up with bug spray wouldn't hurt.
The section upstream from the Benton Bridge is open year around with special regulations. Seasonal closures, and angling restrictions apply downstream from the bridge, check regulations before fishing in this section.
Middle Owens River/PVR/Wild Trout section (Bishop Area) 7/26/17
Water levels finally starting to come down on the river. The river is fishable at these flows but still high and you will have to target the eddies and slower water for now. PVR fishing ok with heavy sinking lines and best if you have a float tube. Otherwise you can fish the inlet section with a double nymph rig and an indicator. Wild Trout section still a bit high for wading and comfortable crossing flows.
This fishery remains open year around. Special regs from the footbridge at Pleasant Valley campground to the fishing monument 4.7 miles downstream.
Hot Creek 7/26/17
Flows now at 114 cfs. Creek is starting to clear up slightly and some fish being caught along the edges and the open lanes between the weeds. Dry droppers and lightly weighted nymphs getting some grabs.
This is a year around fishery with special regs in place.
*Tom Loe, Doug Rodricks, and Doug Dolan are under permit from the Inyo National Forest Service to guide Hot Creek.
The Gorge 7/26/17
LADWP has been doing a lot of work in this area and have lowered flows. It is better fishing from the power plant down to PVR currently.
Season open year around
East Walker River 7/26/17
River now at 500 cfs and hopefully coming down more over the next week. If flows continue to drop at this rate fishing should be very good soon. There will be plenty of new holding areas for fish which were previously choked with silt and weeds from a few years of drought.
This fishery is open year around below the Bridgeport Reservoir dam to Nevada State line. Open year around in Nevada also.
Bridgeport Reservoir 7/26/17
The lake is in the best condition we have seen in several seasons. As water temps climb, the migration of trout towards the cooler inlets in Buckeye Bay, & the Walker area will increase. The submerged channels are well defined if you have a good sonar. The Bridge fishes best for fly fishers when the trout "channel up" in these locations. Damsel flies, callibaetis, perch fry, and midges are all on the menu now. Hang a Parallel Perch or Parallel Assassin in the channel proper and you will get grabs.
For those of you looking for a unique, and profitable business opportunity here in the Sierra, the Bridgeport Lake Marina is for sale. This facility is pretty much a turn key recreational business that has an established RV Park, small general store, and boat marina. Here is the listing informationlink.
Jurassic Pond 7/26/17
The creek leading into Jurassic Pond is now clear but still flowing strong. These fish have snapped into their summer feeding mode and are responding to most patterns we have been throwing at them. We have been getting them under an indicator and pulling streamers with sink tip lines. We have openings if you want to catch that trophy fish of a lifetime.
Check out some of the recent fish we've had the pleasure of netting:
***New for 2017! I have limited quantities of some new patterns that will guarantee advantage in your quest for trophy trout. Balanced patterns are the new rage for nymphing, & streamer fishing. Parallel Punk Perch has been the hottest fly on Crowley Lake recently. We have been guide testing these patterns for several years, & I can honestly say they are the most significant improvement in fly design in over a decade. They are truly superior to conventional fly designs. The flies ride "parallel"; or "level" to the bottom giving them a far more realistic profile. The jig style hook becomes more effective as it seldom gets snagged on the bottom, & sets efficiently in the fishes mouth. These flies are intended to fish as your bottom fly in a multi fly; or tandem rig. They are deadly fished solo as a streamer. Add these patterns to your quiver for all fisheries that you still water nymph; or cast streamers. Click on "fly sales" on the nav bar above, hit "menu" first from a mobile device to access the nav bar.
You can pick up our flies & Under-cators at Reagan's Sports in Bishop, the Crowley General Store (not at the lake), Ricks Sport Center in Mammoth (limited selection), Bridgeport Reservoir RV Park (currently closed for winter), Stroud's Tackle in San Diego.
I have added a picture gallery to the website . Click on the "gallery" button and do a search for your name, or scroll through the pages. You can double click on the picture to enlarge it once it is located.
Thank you for visiting our website and checking out our report. Be the Fly…. Doug Rodricks, Sierra Drifters Guide Service.
Rainbow Trout.com © 2020. All Rights Reserved.
Website Hosting and Design provided by TECK.net
Fish Database content provided by the Fish Reports Network.